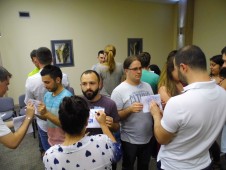 NGO Libero organized an international training course – Youth Work in Conflict Transformation Online (TransconflictNET). 
We gathered  in Vršac, Serbia, from 21st to 26th of June, 2016, to work on online conflict transformation with young people from all over Europe interested to become part of network working on transforming conflict through virtual world. During training course they had opportunity to to share their experiences in conflict transformation through youth work and talk about opportunities that virtual world brings in field of their work and methods used. They talk about creation of network and how it can be strengthened with more organisations from all around Europe.
Training is organised with international partners as part of project "TransconflictNET" supported by European Youth Foundation of Council of Europe.