Services provided by Libero may be perceived as 4 comprehensive sets of activities. These activities were developed through projects led by Libero for a long time and therefore they have also been recognized by other organizations and institutions.

Development and implementation of informal education methods for youth and children (as well as other target groups optionally)
Libero pays great attention to work related to informal education and almost all projects for providing support to young people are based on education of youth by implementing various methods of informal education and developing of new methods in accordance with particular circumstances. These methods also include learning from experience, which is applicable to work in various fields and with different target groups and the results of this kind of work are visible and usable after a short period of time.

Raising of capacities and creating methodology of working with youth and children (as well as other target groups optionally) for organizations/institutions
Good example of Libero's work in this field are services provided to UNICEF. However, Libero also develops new methodologies through other projects for youth organizations that are dedicated to young people with learning difficulties who are consequentially prone to early leaving of formal education system as well as to youth stricken by conflicts. Besides, this set of services is applicable in work with other target groups, considering the fact that there is an increasing demand for raising of operational team capacities in organizations, institutions and other business subjects. Development and production of online tools for:
Capacity raising (online trainings, webinars, interactive workshops etc.),
Multiplication and dissemination of results (web sites, portals, social network pages etc.),
Promotions, awareness raising campaigns and other campaigns (social media marketing tools, teasers, trailers etc.),
Connecting, networking, clustering of organizations, institutions, volunteers, activists (interactive data bases etc.).
Libero is among first civil society organizations that recognized importance of the role of online tools in life of young people. Therefore, Libero is considered a pioneer in this field, to which they dedicated the last 5 years of work. Libero implemented many projects that applied different approaches to young people using online tools. Also, every single project uses digital media for communication of results. Tempo of life today is characterized by quick changes, habits are being changed, users require information that is easily available and therefore online tools are just the answer to all these needs because they overcome time-, geography-related and all other limits.

Technical implementation and support in implementation of projects through sub-contractor services such as:
Situation analysis,
Monitoring of implementation and quality control,
Secondary and thematic analyses,
Regranting and sub-granting,
Field work,
Technical organization and logistic support in event organization,
External evaluation, etc.
All above listed services are included in almost every project so it is certain that the team and experts have significant experience in their implementation, either through their own projects or through partnerships.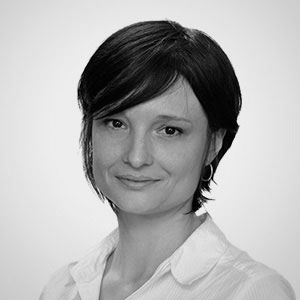 ANA MIRKOVIĆ
About Ana
Graduated with a degree in Psychology. Communications leader at Digital agency Razor Communications, delivering communication strategy – planning, implementation, evaluation. With many years of experience in practice, she worked as Adviser for Digital Communications at UNICEF Serbia. Also, Ana is lecturer at Business Academy (Cambridge international school) and IT Academy on courses oriented towards Public Relations, Digital Public Relations, Corporate Communication and Corporate Identity, Crisis Communication, Personal Branding, Sponsorship, Psychology of Personality, Event management and Media Relations. Ana has been working with Libero since 2011, starting form Virtual Feels Real project and later with consultancy on all other projects with topics of virtual world.
Fields of expertise:
The development and creation of online tools for capacity building,
The development and creation of online tools for multiplication and dissemination of the results of work,
The development and creation of online tools for promotion, awareness campaigns and other campaigns.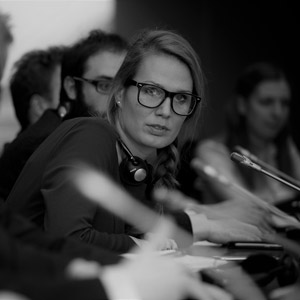 JELENA SPASOVIĆ
About Jelena
Jelena believes that the progress is made by young people and through fresh ideas and that is why she is devoted to supporting them to "make a move and liberate ideas" through her work in Libero and many other international and national institutions that she has been working for many years now. She's been a kick-starter and forerunner both in the civil society and political organisation, and never gives up – and doesn't expect any less from the others. As a leader, speaker and facilitator of learning, Jelena has always been pushing for innovation and exploration of the new boundaries where the worlds of technology and learning meet.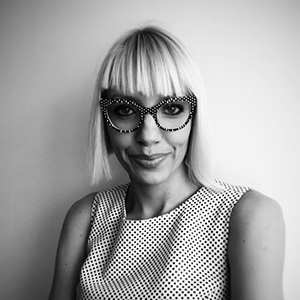 MINA MIRKOVIĆ
About Mina
Completed undergraduate and MA studies at the Faculty of Organizational Sciences, at the Department of Management and Organization. Mina is consultant in implementation of projects – vary by type, topic and donors. She has built an expertize as one out of twenty trainees from all around Serbia for financial, legal and administrative management of projects funded by programs of the European Union. From 2012 as consultant she takes care that everything is in accordance with grant agreement and all procedures adequately applied. She is experienced with PRAG procedures (EU procurements), public procurements in accordance with Serbian legislation. Also, Mina has been working on internal monitoring of projects, research as well external evaluation. Furthermore, Mina has Professional Diploma in Digital Marketing and Diploma in Social Media Marketing Course that makes her qualified for work on projects with accent on digital.
Fields of expertise:
Situational Analysis,
Monitoring of implementation and quality control,
Implementation of secondary and thematic studies,
The technical organization and logistics support to the organization of events,
External evaluation,
The development and creation of online tools for capacity building.
European Youth Foundation
Europe for Citizens Programme
Ministry of European Integration (Serbia)
Regional Youth Cooperation Office